Queen Mayla



Grade

Elf

Sex

Woman

Hair

Long and Brown

Enemies

Voice

Frends

Family

Location

Age

47
Quenn Mayla is a queen of elves. She is Mo's mom. Mayla is character in Centopia of Mia and Me.
Character
Queen Mayla is kind, patient and careful 47 years woman who takes her responsibilities seriously. She likes to get out the best of her son Mo as a future king of Centopia. She is polite and wordy, she loves her friends and helps everyone, as a queen of Centopia and protector of every living creature that lives there.
Appearance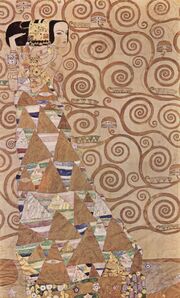 Quenn Mayla is a beautiful woman who loves her son prince Mo and wants to teach him the Royal label. She has brown hair, wears a golden crown on her head, wears a long gold gown in gold blue and dark blue triangles and red and green rectangles on her neck. She wears a golden collar and under laced up gold crystal necklace in her ears , she has earrings stuck with red rubies, which she received from her husband two years ago in September at her thirty-sixth birthday. On her feet, she has golden heels on the heels on which it is drawn portrait of the Queen taking wedding of King Raynor was wearing a white dress and high heels chest has a gold lace bra in gold blue and red rectangleslves. Her appearance is inspired from The Expectation, part of the Stoclet Frieze painted by Gustav Klimt.
Relationships
King Raynor is Mayla's husband.
Prince Mo is Mayla's son.
Phuddle
Queen Mayla is Phuddle's friend.
Unicorns
Queen Mayla is every Unicorn's friend.
Trivia
She is the Queen of elves.
She appears in all seasons.
Prince Mo is her son.
King Raynor is her husband.
Gallery
Main article: Mayla/Gallery
Community content is available under
CC-BY-SA
unless otherwise noted.