Hoooray!

Mia and Me - Episode 107 is a featured article! Feel free to expand or correct the content, but please refrain to remove the previous good contribution.
Hope in Pieces
Season 1, Episode 7
Air date
27 December 2011
24 May 2014 (Nick Jr. USA)
Written by
Doug Sinclair, Terry Saltsman
Directed by
Bill Speers, Tony Power
Episode guide
Previous
Onchao's Oasis
Next
Ziggo's Day Off
Hopes in Pieces is the seventh episode of the first season of Mia and Me.
Summary
Mia is anxious to return to Centopia to be with Onchao so she misses class, and Vincent tries to convince her not to miss class. Violetta and her groupies approach them and Mia's bracelet glows, so Vincent covers her. When Mia arrives to Centopia, she works to help Onchao by bringing him to the Ferngrass Herd to learn from the unicorns. Phuddle attempts to make up with the king of pans.
Plot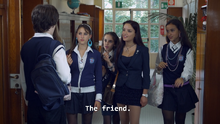 Still upset about what happened to Lyria, Mia impatiently waits for her bracelet to start glowing again. Vincent comments that she missed out on her math class, and reminds her that she doesn't live only in Centopia. As he tries to make sure she reaches her history class on time, Vincent finds himself surrounded by Violetta and her girl posse, who want to know more about Mia's book. Mia's bracelet starts glowing, so she has to delay helping Vincent.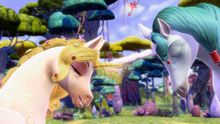 Arriving in Centopia, Mia finds that Onchao is also still feeling down about his mother being captured by Panthea. Mia decides to try to cheer Onchao up by bringing him to one of the unicorn herds so he can learn more about his own abilities as a unicorn. Meanwhile, Phuddle is trying to figure out how to make up with the pan king so he can be accepted back among the other pans. Mia and Onchao discover a piece of the Trumptus on the pan kings crown.
Major events
Mia brings Onchao to the Ferngrass Herd to learn from the unicorns.
Phuddle performs a Partridge Berry tea ceremony to make up with the King of Pans.
Trivia
The oracle for this episode is "Wise and weary as you tread, watch your back, but look ahead."
Phuddle mentions a few of his previous mishaps back when he lived with the other pans, including having accidentally started a fire once, while trying to convince the king to "banish" him again so he can stay with the elves.
Transcript
Main article: Mia and Me - Episode 107/Transcript
Gallery
Main article: Mia and Me - Episode 107/Gallery
References
Community content is available under
CC-BY-SA
unless otherwise noted.